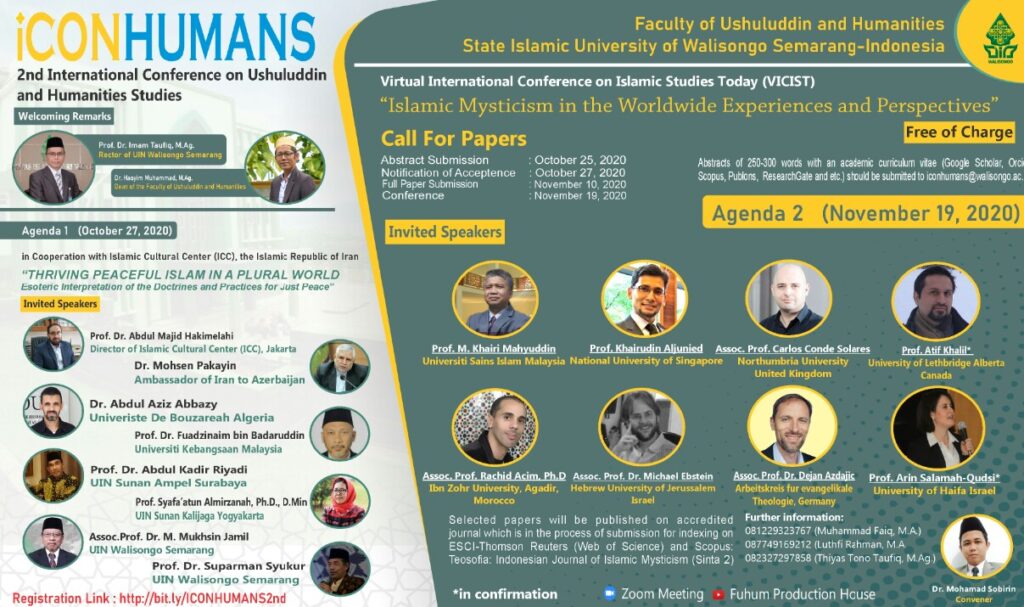 FUHum.news – Fakultas Ushuluddin dan Humaniora (FUHum) UIN Walisongo akan menyelenggarakan Webinar internasional. Adapun pengumuman lengkapnya bisa dilihat di bawah ini:
All interested professors, researchers, and scholars from various related backgrounds are cordially invited to contribute papers for presentation to the 2nd International Conference on Ushuluddin and Humanities Studies (2nd ICON-HUMANS, 2020) and inclusion to the journals publication series. The conference will be held twice on:
October 27, 2020 (2 Plenary Session, in cooperation with Islamic Cultural Center, Iran)
November 19, 2020 (Call for Papers: Plenary, Panels Presentation and Publication Series)
Focus and Scope:
ISLAMIC MYSTICISM, SUFISM AND SPIRITUAL MOBILITIES IN THE WORLDWIDE EXPERIENCES AND PERSPECTIVES
Registration and Submission
Conference Registration for Participants (October 27, 2020) http://bit.ly/ICONHUMANS2nd
Call for Paper and Presentation (November 19, 2020)
Abstracts of 250-300 words with an academic vita (Google Scholar, Orchid, Scopus, Publons, Research Gate and etc.) should be submitted to iconhumans@walisongo.ac.id
Important Dates of Call for Paper-Conference (November 19, 2020)
-Abstract Submission Deadline: October 25, 2020
-Notification of Abstract Acceptance: October 27, 2020
-Full Paper Submission: November 10, 2020
-Conference: November 19, 2020
Conference Fee
Participants (Free of Charge)
Presenter (IDR 0)
INVITED SPEAKERS
Virtual Conference 1: October 27, 2020:
Prof. Dr. Abdul Majid Hakimelahi (Iran)
Assoc Prof. Dr. Abdul Aziz Abbacy (Algeria)
Prof. Dr. Fuadzinaim bin Badaruddin (UKM, Malaysia)
Assoc. Prof. Dr. Mohsen Pakaeen (Azerbaijan)
Prof. Abdul Kadir Riyadi, Ph.D. (Indonesia)
Prof. Syafa'atun Al-Mirzanah, D. Min. (Indonesia)
Assoc. Prof. Dr. M Mukhsin Jamil (Indonesia)
Prof. Dr. Suparman Syukur (Indonesia)
Virtual Conference 2: November 19, 2020:
Prof. M Khairi Mahyuddin (USIM, Malaysia)
Prof. Khairuddin Aljunied (NUS, Singapore)
Prof. Carlos Conde Solares (Northumbria University, UK).
Prof. Michel Ebstein, (Hebrew University of Jerussalem, Month Scopus, Israel).
Prof. Dejan Azdajic (Arbeitskreis für evangelikale Theologie (AfeT): Facharbeitsgruppe Praktische Theologie, Germany)
Prof. Racid Acim_Ibn Zohr University (Morocco)
Prof. Atif Khalil_Professor (Classical Islamic Thought)
Department of Religious Studies
University of Lethbridge
Alberta, Canada)*
Prof. Arin Salamah-Qudsy (University of Haifa, Israel)*
Publication
Selected papers will be published on national accredited journals which are in the process of submission for indexing on ESCI-Thomson Reuters (Web of Science) and Scopus:
Teosofia: Indonesian Journal of Islamic Mysticism (Sinta 2)
Theologia: Journal of Ushuluddin Studies (Sinta 2)
Contact us:
If you have any questions about the conference, please do not hesitate to contact us at iconhumans@walisongo.ac.id.
081229323767 (Muhammad Faiq, M.A.)
087749169212 (Luthfi Rahman, M.A.)
082327297858 (Thiyas Tono Taufiq, M.Ag.)
081559996690 (Moh Khudlori, M.Th.I)
Organized by Faculty of Ushuluddin and Humanities and TEOSOFIA: Indonesian Journal of Islamic Mysticism, UIN Walisongo Semarang, Indonesia.
Sumber: Pengumuman resmi panitia
Tim Web FUHum